BY WILL LAMPEY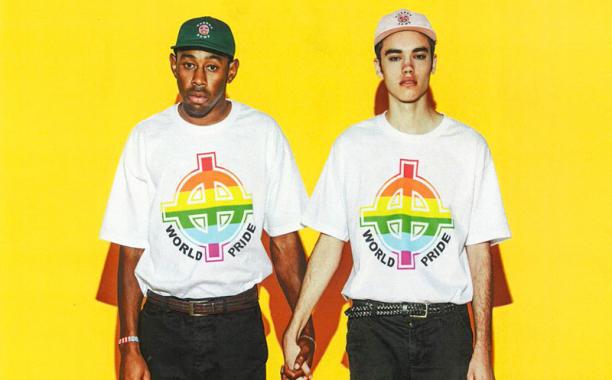 Taking a page out of his good friend Kanye West's book, Tyler the Creator has decided to alter the meaning of a negative symbol (similar to the use of the confederate flag in Yeezus merch). For a tee shirt in his Spring/Summer collection of his clothing brand Golf Wang, Tyler dresses the white power symbol in rainbow colors and surrounds it with the phrase "Golf Pride World Wide".
Tyler also penned an open letter to subscribers of his GOLF Media app in order to explain the meaning and creation of the shirt. He says that he wants fans to know what they are purchasing.
Many are anticipating a reaction -if there will be one- from GLAAD. The anti-defamation organization has previously spoken out against Tyler, specifically when he won the MTV Video Music Award for Best New Artist in 2011. On their official blog, Tyler was berated and painted as a homophobe for his use of slurs, though he had repeatedly explained that his intentions were not to hurt LGBT people when he used them. A quote from GLAAD's Senior Director of Programs said that "given Tyler's history of such remarks, viewers and potential sponsors should refrain from honoring homophobia and in the future look to a more deserving artist." In other words, he didn't deserve the award in their eyes. GLAAD blog writer Matt Kane also suggested that Tyler should have never been nominated- not because of the quality of his video, but because of his language.
This ordeal of miscommunication and finger pointing brings a much bigger question to the table: Should artists be questioned and accused for their art? And where is the line drawn between hate speech and free speech? Or better yet, sensationalism vs. combating prejudice in the media. In a 2013 interview at a New York radio station, Kanye West made a comment that "black people don't have the same level of connections as Jewish people. Black people don't have the same connections as oil people." Is that a generalization? Yes. But according to the Anti-Defamation League, this was "classic anti-Semitism". Though it may not have been the best thing to say, it's definitley not anti-semitism, which is defined as a "hatred of Jewish people" by Merriam-Webster. The statement from the ADL seems less like a group standing up against hatred and more like nitpicking in order to continue the bad guy trope that keeps websites like TMZ in business.
Read Tyler's letter below and check out the rest of his Golf Wang collection here.
---
Will Lampley really liked Cherry Bomb. Follow him @willcDPR.